Changes to Membership Billing in 2019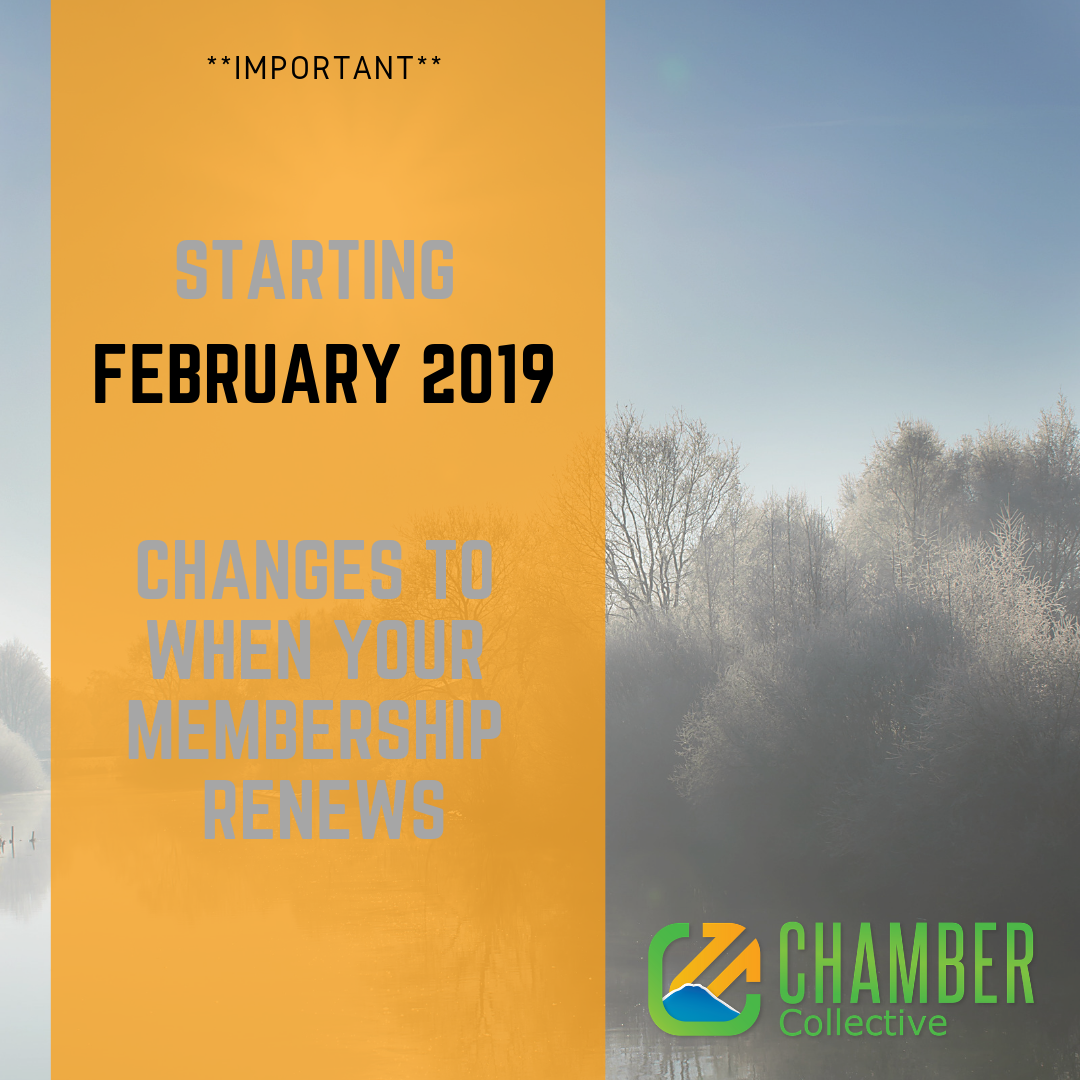 We are making three big changes to Membership Billing in 2019! These changes will allow us to continue to grow and add value to new members. While also allowing us to focus on driving home the promotion of you and your business.
Monthly Billing
        The first change we are making is the addition of Monthly Billing! The bread and butter of the United States economy is small business. Over 50% of our membership base are companies of 15 or fewer employees. We want to make sure that we can build on that base, and give more businesses the opportunities to connect and grow. The monthly tiers will allow for potential members (or a current member) to gain all the benefits of being a member while making the investment of membership over 12 months.
According to Entrepreneur Magazine there are between 25 million and 27 million small businesses in the U.S. that account for 60 to 80 percent of all U.S. jobs. And, a recent study by Paychex, says that small businesses produce 13 times more patents that larger firms. (Forbes)
Renewals
        The second change we are making is one that effects when your membership renews. Starting in February 2019 we will start processing all renewals on the 1st of the month, with it due by the 5th of each month. We will be sending out multiple reminders to let you know of the change to when your membership will renew. This change will allow us to focus on finding benefits, organizing events, and continuing to do what we do best. 
New Membership Tier
        The last, but certainly not least, change is the addition of a whole new membership opportunity. Membership to the chamber has always been restricted to businesses, but when we sat down and thought about our goals as a chamber of commerce, we realized we were missing out on a crucial part. Our mission states that we exist to engage, connect and grow business leaders in order to enrich the environment for ownership, employment and COMMUNITY.
         This new membership tier is for those community members who wish to make a bigger impact. One that allows them to engage, connect, and grow the environment of community. Taking part on committees to facilitate events and showing their love and adoration for the communities they live in. This new tier has been named the Honorary Citizen Membership and is open for anyone who wants to be a member that is not a business.
We are the Chamber Collective, a collective of Chamber of Commerces serving the communities of Bonney Lake, Buckley, Lake Tapps, Lakeland Hills, Sumner and Tehaleh.
A Note from the Executive Director
        As we make these changes I just want to ensure that you know why we are making these changes. If you have any questions please reach out to me personally and I will clarify any questions or concerns you may have. My email and direct line can be found below.
Email: guy@thechambercollective.com Phone: 424-262-3707
~ Guy Maughan
Better Business, Better Life